Designs with purpose
We bring it all together to get you noticed
True Healthy Living
cre
PROBLEM
True Healthy Living, LLC contacted TuiSpace to develop a new brand identity, create marketing collateral, and improve an outdated website.  The old website design did not portray the multiple services, personalized care, and vast experience the practitioner offered.  In addition, the company was expanding and offering a new service to its clients.   The owner/practitioner wanted a website that would educate clients while providing a certain level of trust. The practitioner also wanted her new web design to reflect a professional, authentic, and  relatable experience for its visitors.  The site needed to easily explain her complex services in a way that would encourage visitors to schedule a consultation. The site also needed a place for educational resources, including recipes and testimonials. This information would provide an increased level of comfort to her visitors.
SOLUTION
The Tuispace team elevated True Healthy Living's brand by bringing a unique level of whimsical energy with bright colors to an outdated website. It maintained a professional yet inviting feel with its navigation, user experience and content. A self-managed blog gave the client the ability to post new content to her site and provided a dedicated area for resources.  The Tuispace marketing team worked with the client to hone in on her new service and product offerings, which launched together with the new website. Both were celebrated at the company's anniversary and website launch party, which were well attended with the help of Tuispace's social media and marketing efforts.
True Healthy Living Case Study
True healthy living
About
True Healthy Living, LLC is a Houston-based holistic health and wellness consulting practice focused on working with athletes, fitness enthusiasts, health-conscious adults, children, and teens.  In addition, they offer weight management and personal chef services.
Logo

Preliminary Design mocks

UX DESIGN- Wireframes are completed for every unique page. We worked with the client to ensure the best user friendly experience.
UX

WEB DESIGN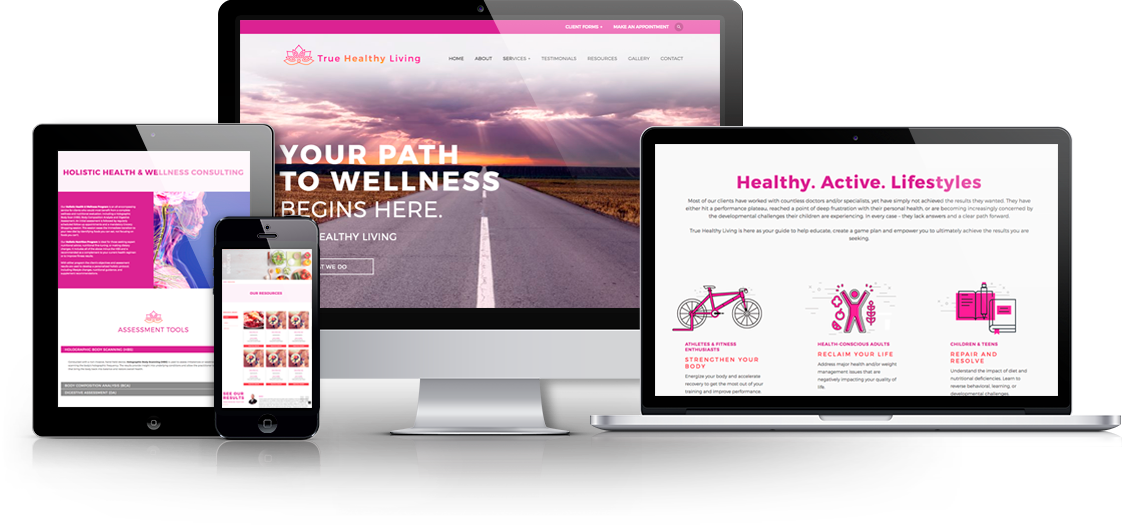 UI

WEB DESIGN

UI DESIGN- The visual design is created with functionality and usability as its priority. Competitor research is followed by interactions with the client to ensure the best outcome.