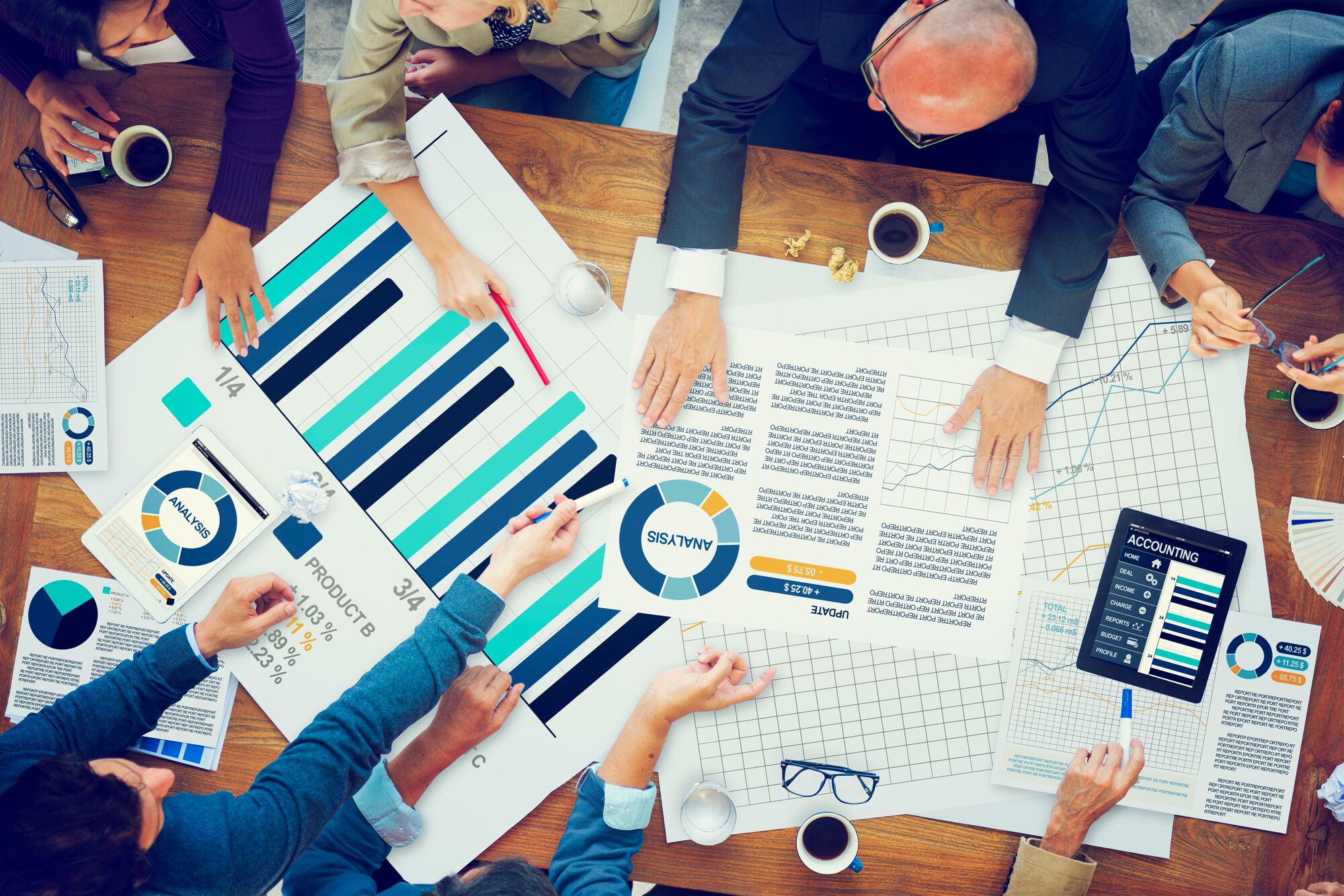 Even though we are a design and IT services firm our clients come to us with technology or marketing concerns. We deal with a lot of new business owners that didn't plan for growth and need solutions to fix their broken systems. They hire us to tell them how and what to focus on first. The following top 10 IT and Marketing Essentials for Starting a Business is what we see businesses struggle with the most. Having a great business idea is not enough to start a business. It takes a lot of organization and planning to put that idea to practice. Creative thinking and some work experience do not guarantee you'll be able to make ends meet in your business either. Our advice is to start before you get too big. It's better to lay down a foundation to build upon, rather than try to fit into a system that doesn't expand with you.  That said, we've learned a few things along the way to help our clients that are just getting started or about to experience fast growth.  If you do it right from the start it will eliminate costs down the road as you grow. First, you must establish a set of prerequisites that will ensure that your venture has a solid technology and communications foundation. This is a list of ten elements that we consider to be an essential "starter kit" for your business.
Company name
Domain name (we recommend Namecheap, get free private registration for a year with our referral)
Logo design (Learn about our logo design)
Professional business cards (Learn about our design services)
Professional Google Suite email (Get %20 off your first year with our referral)
Hassle-free hosting (Learn about our hosting)
SMB website (Learn about our website design)
Sofware and collaboration tools
Business network, WiFi and security
CRM and accounting solutions
Now we are going to discuss each of these elements in detail and share some valuable sources that can help entrepreneurs kick-start their enterprise.
1)     Company name
When you look at the
names of successful startup brands
, you'll see that most of them share the same common characteristic – they are simple. In this global market, it's extremely important to speak the language that many people can understand. That's why your company name should consist of one word. If you are planning to target international audiences, then it's better to give your business an English name. When choosing the company name, you need to
check its domain name availability
. That way, you'll ensure that your business name is easily recognized and found on the Web. And if you can manage to come up with a name that's easily associated with the field in question, even better. For instance, a store that sells organic food can be called
Greenairea
. Here, we have the words "green" and "air". Also, the word "area" is hidden in pronunciation. So, all three words will associate people to nature and healthy food. Plus, you'll also have an original domain name.
2)     Affordable domain name
Even if it happens that the domain name for your company is free, it's also important to go for an affordable option. For new business owners, every penny counts. Because of that, it's important to do your homework and shop around the Internet to find the best price-value ratio. Since it's possible that the company name you choose is taken in the .com domain, it's not ideal to choose the same name under a different domain. It would be almost impossible to catch up to the rival that's registered as a .com company. That's why some new brands make up a new word or turn an existing one into something different. You should also avoid special characters inside the domain name, such as hyphens, because they make it difficult for the end-user to remember to type directly. As a
Namecheap
partner, we can refer our clients to perks such as free private domain registration on their first year. You can also expect to pay the same amount every year (no coupons needed! We're looking at you GoDaddy users!). You can read more tips about the choice of the domain name in the
guide on TheBalanceSMB website
.
3)     Logo design
Your business logo needs to be a memorable and representative visual reflection of your business vision. If the message your logo sends and the services that your business offers do not come together, your potential clients will be confused. As a result, they will be hesitate to collaborate with you. It's crucial to communicate with the designer every single bit of what your logo represents. Business owners should share how they imagine their business and include a list of potential future services that you're planning to provide. Here at TuiSpace for instance, we require our clients to fill out a comprehensive design questionnaire to help us deliver the perfect logo. This process that we follow is the key to
creating relevant and visually unique business logos
. Our designers use all of these inputs to come up with an original solution for the visual identity of your business. When your logo sends the right message, it will draw the attention of various audiences and groups of clients.
4)     Professional business cards
Although this is a digital age, some traditional promotional strategies have remained. One of them is professional business cards. Their appearance and quality depend on several distinctive elements. First and foremost, the quality of the paper you are going to use will send a clear message to your clients about your business status. Printing your cards on low quality stock paper sends out a specific message about your business. In some niches, it's common practice to share basic contact details with people without regard for making an impression. In that case, you can opt for less expensive business cards. However, if you are launching a business that aims at large business players, you should consider glossy cards, printed on top-notch paper. This is something that we see time and again, which is why we offer many
additional higher quality features for business cards
. So before you start your venture, make sure that you have your first set of business cards professionally designed and printed.
5)     Professional Google Suite email
Most people use regular Google email for their personal and business communication. It's a convenient, and free, option for an average Internet user.  What's even more convenient and more than affordable, for business owners especially, is the
professional Google Suite email
. For $6 a month per mailbox, you get 30GB of cloud-based storage, together with video conferencing and file sharing features. You also get continuous and professional email support.  In addition, your data will be stored on secure servers.  It will be also be highly protected from spam and hacker attacks. The best part is we can set it up for you and make it turnkey, all we need is a list of names and emails. Finally, the advantage to G Suite versus Google email is that your email address format becomes yourname@yourcompanyname, instantly elevating your start-up business to a more established one.  Keep in mind that before you register your business for this email service, you should already have both the company name and the domain name reserved.
6)     Hassle-free hosting
In this day and age, it's almost impossible to start a business without launching a website as well. Therefore, it's important to choose the right hosting service to support your business as it grows. Basically, this is the accommodation unit on which your website is going to be living for an indefinite period of time. When you're selecting the hosting provider, you should research them the same way you search for vacation accommodation.  Identify your "must have's", in this case, look for an experienced and reliable service that guarantees security and privacy protection. While there are many free hosting offers on the market, such packages can be a double-edged sword. Although you might get free hosting at the beginning, they most often charge you more after the initial promo period. Also, it's wise to separate the domain name and hosting. Even though most hosting providers offer these two services as a package, there are some cases in which such a combo would be fatal for your business. For instance, if the provider terminates the hosting services for whatever reason, your domain will become unavailable, as well. More importantly, most cheap or free hosting providers cram their users on shared hosting environments. The risk of down-time or having an IP flagged with bad reputation is higher in these situations. If one bad customer gets a virus or spam emails, it could affect everyone else on that server. That's why it's important to read all the terms and conditions before you sign anything regarding your website hosting. What's more, you should talk to other business owners or join forums where they discuss these matters to find the best offer for your needs. In the meantime, you can read more tips on choosing the best hosting provider in the
guide published on Business.com
. We offer stellar hosting service at TuiSpace with the use of Google Cloud's platform. Our dedicated server offering is fast, optimized, and secure. Having solid hosting means that your website gets minimal down-time and gets high SEO scores to generate more traffic to your site.
7)     User-friendly SMB-website
Now that we have presented some useful hosting tips, it's time to talk about the input for that hosting service: your business website. In a nutshell, it has to be simple, yet informative, as well as responsive and fast. If a business website is too complicated, its complexity will kill the information it provides. Furthermore, currently websites need to be responsive to different devices. They also must have a short load time, since more and more people are using mobile devices to find information and make buying decisions. According to the
data published on theSEMrush Blog
, if your website loads in 2.9 seconds, it's more efficient than about 50% of all the websites on the Internet. In addition, the
research results published by Google
in 2017 showed that it's crucial for business owners to optimize their websites for mobile. In the same report, you can see that the weight of most business websites in the US is below 2MB. It goes without saying that every modern business needs a mobile-friendly website. As your business grows, you can launch a mobile version of your website, or even an app for mobile users. In the beginning however, you can reduce the weight of your website by compressing images and publishing only essential videos there. Generally speaking, a business YouTube channel is a perfect place for all your business videos. Also, keep in mind that some fonts can be pretty "heavy" for a business website so stick to regular, website-friendly fonts. With TuiSpace, you'll have a site that's very fast to load thanks to an optimized environment and Content Delivery Network (CDN) technology. We pride ourselves in being mobile-friendly professionals.
8)     Software and Collaboration Tools
It's important for a new business to use as many tools as possible to manage their business effectively to prepare for growth. One of the best investments you can make in your business is to buy software. Don't use software you download off the internet they have viruses and limitations.  Most offices use Excel, Word, and Outlook for productivity another option is to use Google docs which comes along for free with G Suite by Google Cloud. Collaboration between employees is also essential.  Having everyone on their own personal laptops is an affordable solution for most start-ups however it quickly begins to cause communication breakdowns. To run efficiently and own your data (in the event an employee quits or gets fired), we suggest a file server to share and back up files. Dropbox, OneDrive or Google Docs can help with that. In addition, a fast-paced office environment can improve collaboration and communication when companies embrace office chat or team chat applications. Google G Suite will empower that as well. Finally, train employees to save files on the cloud instead of on local hard drives. Drives can crash causing the loss of important business documents and customer data.
9)     Business network, WiFi and Security
We understand that starting a business gets expensive.  There are many upfront costs involved so it's easy to put some things off and to focus on making sales or getting new customers. That said, we suggest you make it a priority to invest in good business internet at the office. More importantly, allocate for a small business network and WiFi hardware.  If you go with home grade routers you can get hacked and things can get nasty, especially if you have client information, invoices and financial data. We come across issues like those frequently and suggest you research cabling companies. But honestly good WiFi hardware is a great option for small businesses and allows you to eliminate the need for wires. We mentioned this earlier but we will say it again. Don't bring your own home computers to the office. Make sure your office has good business computers that are protected and secure with anti-virus protection. Slow computer cause affect employee productivity. The slower the systems, the slower they work, the less revenue your business makes. If anything, especially make sure the HR and Accounting employees have secure computers. Nobody can afford social security numbers or credit card breaches.
10)   Implement a Good CRM an Accounting Solution
Let's face it, there are so many options out there to help you manage your contacts. If you are still using Excel or scraps of paper to track leads then maybe reconsider your strategy. There are free or low-cost CRM systems for your salesperson to track and manage leads, contacts and vendors. A CRM system also has sales email templates and can help you automate the sales process.  It's a smart way to start a customer database day 1 of your business. Plus many CRM systems can integrate with your website lead capture forms from any page of your site. Next to the CRM system is your accounting or bookkeeping tool.  Make sure you have a good accounting solution that is cloud-based, ask your CPA for recommendations. Keep in mind that if you choose an option like QuickBooks installed on a computer that you regularly back it up.  Losing months of accounting transactions could cause major hiccups with daily operations.  Not to mention the time lost preparing for quarterly or annual taxes. We truly believe that businesses should focus on the quality of their products or services when starting out.  But remember you cannot offer high quality if your in-house solutions are a mess.  Start small, select items from this top 10 essentials list and go big progressively.
Conclusion
No matter how great a business idea you have, launching a business is not something that should be done overnight. There are many different variables that you should consider when you are making your business plan. From the formal elements, such as the company name and online registration to visual branding, your business needs to be a well-presented entity. What's more, you should do some market research to see how the target community reacts to your business concept. Finally, when you have made your decision, launch a campaign that will inform people that your business is about to open its doors. All these things will take time and energy, but you'll eventually have a business of your own.