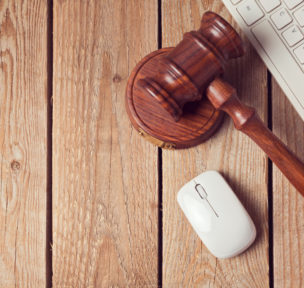 5 Tips for a Successful Legal Website Design
5 Tips for a Successful Legal Website Design for Your Law Firm
Website designers come from all corners. Many claim to be experts in a field so saturated it can easily become overwhelming for a potential consumer. Today, there are various tools that one can use to build a personal website. These tools bypass professional web designers and empower business owners to create their own websites. This is not recommended, however, for a legal professional and his or her legal website design strategy. The legal profession is a diverse industry that touches on every aspect of the law. Therefore, the need for attorneys is high and very competitive. For these reasons, it's highly recommended that you follow these tips for a successful legal website design for lawyers.
1)      Choose a Legal Website Design Professional With a Legal Marketing
Marketing is essential for any business's success. Many businesses utilize similar marketing techniques as other businesses. These marketing techniques are also used in different industries. This is important to understand because legal is one of the few industries that requires unique marketing skills to attract new clients. Legal website design must coincide with your firm's marketing strategies. Therefore, hiring designers who understand legal marketing strategies is crucial for your success. Experienced legal marketing specialists are familiar with general civil and criminal law, specialized legal areas, and legal terminology. Choosing a company or individual for your legal website design without legal knowledge and experience is like taking skydiving lessons from rock climbers. They both seek adventure thrills, but the expertise differs.
TuiSpace has legal marketing professionals to assist with legal website design. It's very important to speak your language and our legal marketing professionals do just that.
2)      User Mobile-Friendly Website

Your firm's website must be easily accessible and user friendly. Your future clients must navigate your website without hassles. This is especially true for mobile versions of your firm's website. Legal website designs with a mobile-friendly view is crucial for client ease, as well as Google rankings and tracking. Therefore, your legal website design must be designed to meet desktop and mobile standards. This is due to Google providing better search results to sites that make the effort to do so. Most importantly, more people in the U.S. are using their phones to gather information more than on a personal computer. Having a legal website design strategy that doesn't focus on mobile design and use is a huge misstep and lost opportunity.
3)      Simple Color Scheme
The colors you choose for your legal website design are colors that match your firm's purpose. Colors are used to showcase a business's personality, help the site flow throughout the different pages, and assists the visitor's overall experience. Bright colors are used to appear welcoming and uplifting. They translate a law firm's focus on solutions and willingness to go to bat for a client. Darker color tones in legal website design reflects a law firm's determination to fight for their client and to do what it takes to bring justice and order. Many times, however, these messages don't come across because of the wrong color scheme.
Unfortunately, the error that some law firms make is picking colors that are either overwhelmingly bright or too dark. Overwhelming bright colors distract website visitors, turning them off from further exploring the site. In addition, colors that are too dark appear grim and depending on the font are difficult to read. Legal website design with a poor color scheme invokes a visitor to make quick decisions to not use a law firm.
4)      Effective Visual and Written Content
Content is essential to the success of a legal website design and legal marketing campaign. Relevant and effective content provides quality search results, attracts visitors to your page, communicates a law firm's messaging well, and persuades a visitor to ultimately contact your firm for legal services.
Visual content makes for a pleasant and interactive legal website design. Strategically using videos and photos is an opportunity to highlight the associates and staff of your firm. They also provide information about a legal topic, can be shared on other platforms, and used for educational purposes.
Written content provides general and educational information, can be a free downloadable good, and, most importantly, is used for search engine optimization purposes. Legal website design requires effective written content for potential visitors to find your website in online search results. This is done by using specific keywords within the written content that communicates with and matches the similar searches your visitors conduct. The main challenge you face is creating content relevant to your legal field that is also SEO friendly. That said, it's not recommended that a lawyer create content due to the SEO experience and knowledge required . It's also not recommended that a law firm hire an SEO specialist with little to no legal marketing experience to create marketing content. TuiSpace provides legal website design for law firms, which includes legal professional consultants and writers.
5)      Call to Action
Your website is about your legal capabilities and how your firm is the best choice for a potential new client. Your legal website design plan must include a call to action, which is an invitation for your potential clients to contact your firm. At every turn, you enable and encourage your visitors to call, email, or schedule an appointment to meet with your law firm. This invitation is key to converting a visitor to a new client, beginning with the call to action throughout your legal website design.
Please contact TuiSpace today for a consultation for your new legal website design. We will review your current site and social media platforms, communicate our best practices for legal website design, and discuss creating a legal marketing and branding strategy.