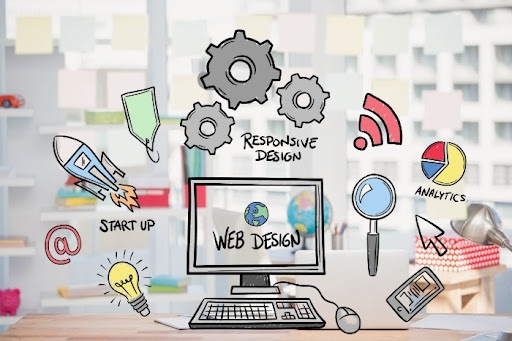 The world of oil and gas is ever-changing and the need for professionals to stay up-to-date on trends, regulations, and customer needs is more important now than ever before. With so much information available across the internet, creating a user-friendly web experience for the oil and gas industry is essential.
Here are seven important elements of web design for oil and gas companies to consider:
#1: Specific Industry Branding
When dealing with an oil and gas company, it's important to make sure your website reflects the important factors that are of value to the industry. A specific branding strategy tailored to this industry will draw in more visitors and help establish a positive customer experience when it comes to relevant visual elements.
Strong Visual Identity
Creating an eye-catching oil and gas website design will ensure that users are able to quickly and easily identify your product or service. Quality resources should be used in order to create a strong visual identity that stands out from the competition and display the company's values and missions.
Website Design
By creating a user-friendly oil and gas website, you are able to ensure a good first impression and make it easier for visitors to navigate through the website. It's important to consider all elements of a clean design such as color scheme, organization of content, page layout, call-to-actions, and more in order to create an intuitive experience that will lead users down the right path.
An important element of a well-designed website for the oil and gas industry is showcasing key features such as services, projects, expertise, important information, and more in a way that is easily digestible for visitors.
Case Studies and Success Stories
When you develop a web design for oil and gas companies, it's important to display the stories of the company's success. By incorporating case studies and success stories in your website, you are able to showcase the company's web expertise and highlight the positive impact it has had on sales or a project.
When visitors can easily access proof of how your product or service has helped past customers, they are more likely to trust in your capabilities and purchase from you.
#2: Navigation and Site Structure
Users should be able to easily find the information they are looking for, and they should never feel confused or lost while navigating through your website.
Industry-Focused Navigation
When creating a web design for professionals in the oil and gas industry, it's important to make sure you have specific industry-focused navigation. This is especially helpful in cases where a customer may not be familiar with all of the jargon or industry terminology. By including pages that are easier to understand, you are able to make sure customers have the information they need quickly.
By including pages that are tailored towards the specific needs and interests of oil and gas customers, you are able to provide visitors with relevant information quickly and efficiently.
Clear and Concise Menu
When it comes to creating a user-friendly menu for oil and gas websites, the goal should be to create a simple and concise format that allows users to find what they need quickly instead of negative space with clustered information. Keep in mind that potential customers will not want to spend too much time searching for information, so make sure your website is easy to navigate with clear labels and minimal clicks.
Call-To-Action (CTA)
A call-to-action (CTA) is a critically important element of any website design. It's essentially the direct link between visitors and potential customers, as it encourages them to take action such as signing up for newsletters or contacting the company.
#3: Speed and Performance Optimization
Positive User-Experience
To have a good first impression for people visiting a new website and create a positive user experience for oil and gas websites, it's important to ensure that the website is optimized for speed and performance so visitors can navigate through the site, access resources, and find relevant info without delays or frustrations.
Conversion Rates
The performance of a website affects its conversion rates, and this is especially true for the oil and gas industry. Visitors who are unable to find what they need quickly or experience slow loading times are likely to move on without making any purchases.
Slow-loading websites lead to high bounce rates which means people will leave the site before exploring further. This will have a significant negative impact on the company's overall revenue. Optimizing the speed and performance of the website reduces bounce rates.
#4: Mobile User Experience
In today's increasingly mobile world, it's essential to create a website design that is responsive and easy to use on mobile phones, tablets, and other devices.
Local and On-the-Go
The oil and gas industry often requires its employees and customers to access information while they are on-the-go or in remote areas. This means it's important for websites to be designed with mobile users in mind.
Creating a website that is optimized for mobile devices will ensure that customers and professionals can access the website from anywhere with no problems. This is an important thing to remember when designing a mobile-friendly website.
Responsive Design
Responsive design is essential when it comes to creating a website that can be used on all devices. This means ensuring that the layout of the page automatically adjusts to fit different screen sizes and orientations.
This ensures that users on any device will have access to the same information and features no matter their device. By using responsive design, you are able to provide a consistent user experience across all devices which will lead to increased customer satisfaction.
#5: Content Strategy
Content is one of the most important aspects of a website, and it's essential to create content that is relevant to oil and gas, draw in customers, and increase conversion rates.
Valuable and Relevant Content
In order to provide visitors with the best experience, it's important to create a content strategy that is tailored to the needs of oil and gas professionals. This means ensuring that the content on your website is valuable, relevant, and up-to-date with industry trends and topics.
Industry Insight
When creating content for an oil and gas website, it's important to provide industry insight that is useful and relevant to customers. This creates trust between the company and customers which will lead to increased sales.
By providing visitors with industry insights, companies can demonstrate their expertise in the field and stand out from their competitors. This includes information on safety protocols, regulations, project management, equipment, sustainability initiatives, and more.
#6: Security and Compliance
When it comes to oil and gas websites, security and compliance are essential. Companies must ensure that all website designs adhere to industry regulations in order to remain compliant and protect customer data.
Data Protection
It's important to make sure all customer and company data is securely stored and protected from potential external threats. Companies should use secure encryption methods and ensure that all data is backed up in case of an emergency.
Regular Updates
Regularly updating website designs is another important security and compliance measure. By staying up-to-date with the latest industry regulations, companies can ensure that their websites remain compliant and secure. It's also important to keep all software and plugins up-to-date.
#7: Benefits of Hiring Professional Web Designers
When it comes to creating a website for the oil and gas industry, it's important to consider all of the above elements in order to create an effective web presence. However, many business owners don't have the time or resources required for designing and developing a website themselves.
That's why it can be beneficial to hire professional web designers to handle the job. Professional web designers have the expertise and experience needed to create a website that meets all of your needs while ensuring that it is compliant with industry standards and regulations. Moreover, they can develop websites that are optimized for speed and performance, tailored to user interests, and secure from potential threats.
Creating a web presence for the oil and gas industry is no easy task. It requires careful planning, strategy, resources, and expertise. However, taking these 7 important elements of design into consideration, you can create an effective website that meets all of your needs while ensuring customer satisfaction and safety. With the right approach, your oil and gas website will be sure to stand out and draw in customers. Take the first steps forward and contact TuiSpace today to design your path to success!