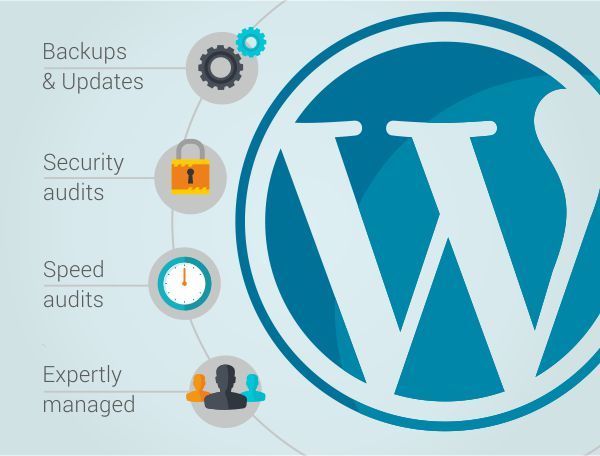 WordPress is the web's most popular content management system and is currently powering nearly 20% of the web. Not bad for a young entrepreneur from our home, Houston that started WordPress! Since WordPress is an Open Source project meaning that there are thousands of people around the world working on improving it. Another example of a very popular (now enterprise-grade) Open Source operating system is Red Hat Linux. Because WordPress' community is so strong, it also naturally dominating the web site themes and plugins space.
WordPress offers a free hosted version that is easy to use but limited in customization. To host, customize, and manage your own full-blown WordPress is actually quite challenging and users that are not tech savvy quickly get lost with some of the basic tasks with just updating the site itself (let's not start with the WordPress install, database creation, DNS configuration, etc.). Most WordPress issues happen in the "back-end" which revolve around server security, performance, reliability, and updates. Using automated plugin updates can break existing custom code which can lead to a lot of frustration for its users. WordPress also consumes a lot of resources and we recommend making use of CDN technology to deliver content to your clients based on their geographic location (site would load faster).
How do you solve all of these WordPress issues at once?
This is where
Managed WordPress hosting
comes in. All those tasks that are necessary on the back-end can be accomplished by experienced and knowledgeable WordPress administrators and WordPress developers that are actively working in the background so that you don't have to worry about it. The good news is much of it can be automated and we are able to utilize the power of cloud-based intelligence for security.
Who would benefit from managed WordPress hosting?
The short answer is – everyone who cares about their web presence. Business owners should seriously rethink their web presence and ramp up their hosting to protect their assets and point-of-sale. Managed WordPress hosting comes at a premium that should not be neglected. In other words, managed WordPress hosting does not mean just buying a basic WordPress hosting account from GoDaddy or other terrible hosts. It means making a valiant effort to a proactive approach to protecting your site and not a reactive one. When you pay $5 a month for a WordPress website from GoDaddy you are sharing a server with other customers which means that if there is one bad apple, everyone else is affected. For example a client may get a virus or spam the world using the same IP address that your website is utilizing. What does this mean? It means you will have downtime and may lose business (to migrate to another server). Google may flag your site as malicious if it detects malware being loaded and this can have a detrimental effect in the eyes of your clients and search engine rankings.
Security
This may be the biggest single issue, and the most compelling reason for having your WordPress site managed for you by a knowledgeable host company that has staff that knows WordPress. Because WordPress is so prevalent on the web, its own popularity makes it a huge target for spammers and hackers, which means there are more or less constant attempts to breach the security strategies embedded in the system. Hackers are always seeking ways to compromise the WordPress core software, as well as its theme components and all plug-ins and inject malicious code to existing sites if they are not properly patched or secured. Your website may also be a farm for spam either via bogus comments on your blog or by mailing out spam messages straight from your account! The only way to squelch these attacks is to have all those components updated as soon as the updates become available. A good WordPress hosting company takes care of this for you.
Backups
Backing up your website regularly is vital. Every experienced website owner knows this. Unfortunately, many new WordPress users do not take backing up as seriously as they should. This is sometimes down to the assumption that everything will be ok. Others have looked into backing up their files and decided it was either too time-consuming or too costly. In reality, if something with your website goes wrong, you could lose everything. It is not uncommon for website owners to not take backups seriously until something goes wrong. It is a hard lesson that they never forget. If you are smart, you will get into the habit of backing up your website from the beginning. Ask us how we can fit a backup strategy that works best for you.
Other issues
While security may be the number one reason for utilizing a managed WordPress hosting company, it isn't the only one. You can probably expect better speed and overall performance from your site when it's being managed for you, because obstacles to performance will be removed or minimized by an experienced provider. Good hosting companies usually have administrators on staff, as well as developers who can optimize your website for you, without you even being aware of it. This also means that you can count on greater uptime from your site, since any outage will be addressed quickly and by the pros who have dealt with such issues many times. This can be a very important factor for companies who rely on a strong & persistent web presence. It is periodically necessary to apply software updates to WordPress of a non-security nature, i.e. improvements or enhancements that are not directly related to hacker exploitation. These are often improvements that make your business easier, or that provide additional capabilities you will want to take advantage of. Keeping your WordPress site up-to-date with these releases can keep your company at the forefront of website technology and advanced functionality.
To manage or not to manage your WordPress web site
As mentioned above, there are pretty good reasons for you to have your company's WordPress website managed by a WordPress managed hosting provider. The key areas to focus on today are:
Security (keeping the site secure)
Performance (keeping the site running fast)
Maintenance (up keeping the software and plugins without disrupting the website)
Growth (improving the look and feel and functionality of your website to attract more clients)
A managed hosting company can maximize your web presence, and go a long way toward impressing your intended audience, and increasing your company's credibility. When you begin to consider a managed WordPress hosting, the company at the top of your list should be TuiSpace. Contact TuiSpace today and you will receive Fortune 100 IT services at prices that are affordable to even the smallest businesses. Get the most out of your WordPress site and have the peace of mind that comes from knowing you'll be fully protected by a hosting company that removes all of the hassles so that you can focus on running and growing your business. Call our WordPress web hosting experts at (281) 940-8135 or email us at info@tuispace.com