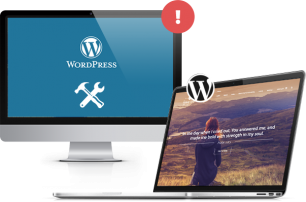 Your business is dynamic, savvy, up-to-date, and keeping up with the times. It's not static at all. In fact, you work really hard to keep it that way. But can you say the same about your website? Static websites can read like online brochures appearing as if they were pulled straight from the '90s. This type of site has infrequently updated content and design due to the way they're built. An experienced web developer must dig into the code in order to make updates to static sites because they are coded and hosted in such a way that requires expert knowledge. Content management systems, like Wordpress, make it easy for someone without development experience to change and maintain their website. Static websites were the way to go back in the day, but times have changed. Now, dynamic websites are the way to go to improve your user experience keep your site fresh with updates.
Static vs. Dynamic Websites
Simply put, static sites are a pain to make content updates to. You have to hunt down your website developer every time you want to make a content change. That is, unless you're an HTML expert. In today's content-driven marketplace, this is such a hindrance. Additionally, static websites have limited functionality for users. Site visitors cannot shop, upload photos, or write comments on static websites. These sites are strictly used for communicating information, not for interaction. So, what exactly does it mean to have a dynamic website? Dynamic websites typically use scripting servers like PHP, ASP, or NET, and are built on content management systems like Wordpress. This leads to:
Easier design updates: you only have to make changes to recurring theme elements like headers, footers, and forms once.
Easier content updates: you don't have to dig into the HTML code to make content changes.
Increased interactivity: dynamic sites allow visitors to shop, share content, comment, and subscribe to your RSS feed or newsletter.
Why Your Business Needs a Dynamic Website
Your website should be a reflection of your business and brand values. After all, it's likely the only 24/7 sales team member you've got. So, if your business isn't static, why should your website be? Having a dynamic website is a great way to boost your credibility, professional image, and better serve your customers. It also demonstrates that you care about being a part of the modern marketplace as an adaptable brand that keeps up with the times. Dynamic websites allow your customers to easily get in touch and interact with you. They can make purchases online, share your content to their social media networks, and participate in discussions. You want your customers and potential customers to have a positive experience when visiting your website. On top of that, dynamic websites are easy to maintain and update even if you have no prior development or web design experience. It is easy for you as a business owner to have complete control, and to make changes quickly. You can create new site pages and landing pages without having to code at all. In the long haul, this could end up saving you significant bucks you would have had to spend every time you wanted to update content on your static site.
Get Dynamic
Overall, while there are still some advantages of building a static website, it is not worth it in this day and age to go static. It is too difficult to update content on static sites, which can hurt your position on search rankings. Additionally, website visitors today often visit companies' websites to accomplish tasks like making a reservation, getting a service quote, or making a purchase. Without a dynamic site, you limit visitors in what they can do. Static sites were common practice in the early years of internet, but not anymore. The majority of websites are now dynamic, and offering a static site would be a disservice to your customers due to its limited functionality. Opting in to creating a dynamic website for your business is the first step in the right direction. However, that's not all you have to do. It's important to keep your site fresh with regular content updates and blog posts. Make sure the platform you select for your site makes it easy for you to do this. Great content is essential for turning your website visitors into conversions, and it can even provide you a boost in your search rankings. If you're trying to decide if now is the right time for a new website, consider the following questions:
Have you updated your website in the last year?
Is your site's design appealing to look at?
Can you easily control design and content updates?
Are your site visitors converting?
Is your site ranking well on Google search results?
If you answered "no" to any of the questions above, it's probably time for a new website. Check out TuiSpace's responsive and dynamic
web design and development packages
. TuiSpace offers affordable rates, and beautiful custom site designs that are search engine optimized. Your business is ever-evolving, and you deserve a sleek website to match.