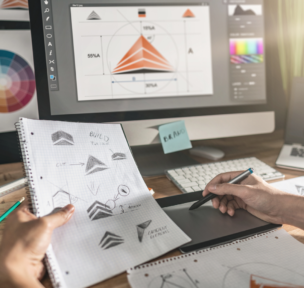 How to Build a Brand Identity from Your Law Firm Logo
Intentional or not, your law firm already has some sort of brand identity. The sign outside your office, the printed name on your business card, and the photos on your website all tell a story about who you are.  If your visuals and copy are compelling and professional, clients will associate your brand with these positives. But, if your materials are unclear, unrecognizable, or inconsistent, they can have the opposite effect. Your law firm brand identity is always working. But is it working for you?
Whether you are just starting out or have been practicing for years, investing in branding is worth the effort. In our internet age, customers are likely to come into contact with your law firm logo or other designed materials before ever meeting you. People will make conscious and subconscious associations based on these designs alone. So, your visuals and copy present a unique opportunity to communicate.  In a matter of seconds, you can show potential clients that your firm is trustworthy, experienced, and different from the rest. In this how-to guide, we will demonstrate how you can use your law firm logo to build a brand identity that puts your practice in its best light.
The Elements of Law Firm Logo Design
The first step in forming a brand identity is to create a Law Firm Logo. Keep in mind that the logo is what will go on all your branded items. It is important that you take the time and consideration to make it effective in representing your practice to the public. Your logo will need to be unique, memorable, adjustable, and consistent. Its design will also decide your brand's color palette, typography, and visual style going forward. This may seem like a lot of pressure to put on one lawyer logo design. But you can make it simple by breaking down the logo to its name, image, colors, and tagline:
Many firms are recognized by and named after the lawyers who practice there. Legal firm logos put a special emphasis on the name and how it appears in type because of this, you'll want to choose the best placement, color, and font to make your title catch the eye.
When deciding on an image to go with the name, think about your practice, your values, and what sets you apart. Don't be afraid to move past the traditional gavel or scales of justice. Get creative and use the space to show that you fight for equality, or that you help families in their time of legal need.
You'll then need to choose a color palette. Colors come with all sorts of psychological meanings and associations. You should do some research on color theory and examine the color schemes that your most successful competitors use. Then decide on primary and secondary colors that bring the right emotions out of a viewer.
You may choose to include a short tagline with your logo to appear in some mediums. This should be a memorable and moving summary of your law firm's stance.
The Design Process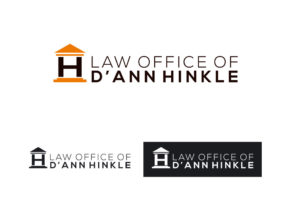 By now you've decided what story you want to tell about your firm, and you've considered how you'll use the elements of a law firm logo to tell it. It's time to get to the drawing room. The lawyer logo design process begins by generating several concepts to choose from. You should select the concept that communicates your message in the most compelling way. Then revise that design using feedback. Many lawyers choose to work with professionals during this process. This saves time, gives access to software, and ultimately ensures that the logos are as effective as possible. Here at TuiSpace, we do this by providing a designated project manager and a team of designers. From initial conversations and an in depth questionnaire, they get to know your practice, generate three concepts, and deliver a revised product according to your feedback.
What a Law Office Logo Influences
Your law firm logo goes a long way in establishing your brand identity. Think of the many logos that we see on a daily basis. From a small image, our minds jump to assessments of the brand's quality, trustworthiness, and the price-point they can ask of us. Additionally, a strong brand can establish customer loyalty to the firm. It can give your clients confidence that they can refer you to their friends, and that your services will be consistent. It can evoke emotional responses that will help you stand out in a crowd, and make other organizations and firms eager to partner with you. A brand can thrive or collapse based on its image.
Creating Branded Items from a Legal Firm Logo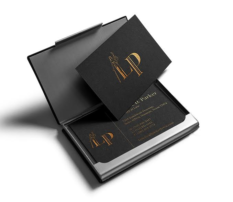 Once your lawyer logo is in perfect shape, you'll want to make sure you are using it consistently across your branded materials. The logo should appear on physical items like your business cards, letterhead, and notebooks pocket folders. Clients, courthouses, and other organizations will all interact with your logo, reminding them of who you are and what you stand for. This is an important step in expanding your brand identity. To make sure your designs fit on various items, it's important that your source files be flexible, the correct size, and in the right file format. At TuiSpace, we offer full visual identity packages to ensure your logo makes the best impression on anything from business cards to letterheads to stationary.
Beginning with Law Firm Logo Design
Creating a brand identity takes time and consideration, but the returns are well worth it. Make your law firm stand out, be memorable, and create customer loyalty by taking the first step with a law firm logo design. To take some of the pressure off of you, TuiSpace is here with professional graphic design and logo creation help. Our turnkey process allows us to work with you to define your message, and handcraft designs until they meet your expectations and goals. No matter the size, aim, and area of your practice, we have a complete design package to meet your needs.