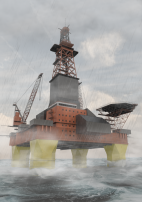 Business owners, designers, and marketers know that 3D work isn't the future anymore; it's what's happening right now. Outsourcing 3D design services is no longer exclusive to big budget companies or specific industries. Exciting things are happening at TuiSpace. We are branching out and expanding the scope of our 3D services due to high demand. If you're interested in utilizing this state-of-the-art technology, we have a new home for you: 
TX 3D Design. 
Visit this website to handle your 3D graphic design needs.
Benefits of 3D
3D visualizations don't just make you look great and ahead of the times. The benefits of 3D graphics are so far-reaching, you can't afford not to utilize them. 3D graphics allow you to  accurately visualize end results, which reduces errors and allows you and your clients to get on the same page. Additionally, 3D visualizations cut costs for your company because you are now able to revise and interact with your design or product prototype before it's even built. This slashes the number of revisions, meetings, and back-and-forth edits. Please your clients, work efficiently, and look awesome all at the same time.
How You Can Use 3D in Your Industry
Oil and gas.
Designing rigs, drills, and other highly technical equipment is expensive and even dangerous. 3D renderings can help reduce design errors when building. The O&G industry also utilizes 3D animations to communicate complex concepts for training and presentation videos.
Energy sector.
Visualize and test technical equipment used for wind energy and other renewable energy sources before you build them.
Architecture and real estate.
Preview floorplans, interior and exteriors, and architectural design before the foundation is laid. Realtors can even offer virtual tours to ensure you're only spending your valuable time giving tours to serious buyers.
Interior design.
Interior designers can take advantage of 3D modeling to present their designs and visions before realization.
Manufacturing.
The photorealistic detail of 3D illustrations make your product look flawless. This is perfect for product design and prototyping.
Marketing and advertising.
Beautiful 3D visualizations look great in catalogs, videos, presentations, and more.
Education.
Today's generation of students has grown up with video games and CGI-animated movies. Teaching with 3D animations is a format they understand and will remember.
Filmmaking.
Godzilla doesn't actually exist, and that sweet explosion didn't really happen. Some of the most memorable moments in modern film can be credited to quality 3D modeling.
Gaming.
Video game graphics keep getting better and better, and the industry wouldn't be where it is today without top-notch 3D modeling.
Medical and healthcare.
3D medical animations and models are powerful educational tools for procedures you can't demonstrate in person.
Publishing.
How can textbook publishers portray places and things that can't be photographed? When you're writing about dinosaurs, evolution or space exploration, 3D illustrations are the way to get your message across.
Geology.
If you need to illustrate tectonic plates or simulate earthquakes, you can't really run outside and snap a photo or video. 3D models and animations are crucial for portraying geological processes and events.

What We Can Do For You
Give your product or project some oomph by utilizing premier imaging software and methods. Our team offers:
Realistic 3D modeling.
This is a great way to tour or view interiors. It's ideal for architects, builders, and designers.
3D visualizations.
Taking advantage of this service allows you to see and interact with products and projects that haven't even been built yet.
3D animations.
Because 3D animations have been proven to have greater retention than flat 2D images, shooting commercials, training videos, or educational videos in 3D are the way to go.
Photorealistic imaging.
This is ideal for showing your product in the best light. 3D imaging overcomes the barriers faced by traditional photography.
3D graphics.
Use these on your website, brochures, presentations, and any of your collateral materials to make your brand stand out.
Why Outsourcing Your 3D Needs to our TuiSpace Team is a Strategic Move:
Killer skills. Timely turnaround. Easy on the wallet. Our professional and experienced designers utilize cutting-edge technology to deliver innovative results, plus our pricing is affordable and can be designed for any budget. We produce the results you need without the high overhead costs of the equipment and staffing that come with an in-house team. Outsourcing with us protects your team from being overloaded and ensures your work is completed by the industry's best and brightest. Even though we're not working in your office, you can still count on us to keep you up to date on your project status every step of the way. Our designers and project managers are clear communicators you can count on us to successfully develop your plans and execute your project. If you don't see what you're looking for on our site, don't be discouraged. We are up for any challenge you can throw at us.
Click here
for a quote, or give us a call today to discuss your project. We're ready to help you power your project forward.
Don't forget to visit our new 3D hubs https://3danimationtx.com/