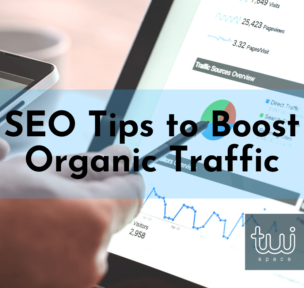 5 Most Effective SEO tips in 2021 to Drive Organic Traffic
Organic traffic refers to the visitors that land on your website from a search engine. It does not include results from paid search ads. It's important because it's targeted. It brings you more followers or customers and increases website trust. Compared to paid results, organic results will benefit your business more in the long run. There are plenty of ways to boost organic traffic to your website, but we rounded up the five best tips and techniques for SEO in 2021.
Top 5 SEO Tips for 2021
1. Create a Content Strategy
One of the easiest ways to boost organic traffic is to update old content. Before you do so, make sure that you have already analyzed the article's metrics. It's important that you have a baseline knowledge of how it's doing on search engines and how much traffic the keywords are attracting. When you are updating old content, you have to replace outdated facts or statistics. Fix broken links, shorten sentences and paragraphs, and embed relevant multimedia elements.
Another focus of your content strategy is the creation of old content. Once you optimize your current articles, conduct a keyword gap analysis to find out which topics your competitors are ranking on that you don't. Based on the results, start creating new pieces to close that gap. Your content should not be random and must be there for a specific purpose.
2. SEO Trends to Improve User Experience
Building on the first tip, keep in mind that the primary purpose of your content is to give your audience the information they are looking for. Search Engine Results Pages (SERP) now have a feature called "People Also Ask," which content creators should capitalize on.
There are other very important things that you should do to enhance the user experience. This list includes improving your page speed, optimizing for mobile and voice search, and using long-tail keywords. In addition to making your content more appealing to your audience, these steps will help boost your search rankings.
3. Analyze Your Competitors' SEO techniques
Start a competitive analysis by identifying your competitors and browsing through their websites. From there, study their best-performing content and products. Analyze their pricing, marketing points, strengths, and weaknesses, and compare them with your own content. Try to see how you can improve your own website, SEO, selling points, and content based on your findings. You can also use brand monitoring tools to gather more details about your competitors.
4. Analyze Your Own Data as an SEO tool
Examine your current data to see how your visitors behave on your website. This can help you identify what changes need to be implemented to improve your organic traffic. Check the organic, referral, and social traffic that your website is getting. Take note of the platforms from where the traffic is coming from and the devices that your visitors are using. Then, look at your site's conversion rate, bounce rate, and reasons for the figures.
You can also use heatmaps and Google Analytics to gain a better understanding of your website visitors. These tools will tell you what your audience is most interested in. They can help tell you how many returning visitors you have, how much time they spent on a page, and other related details. Based on the results, implement modifications. Steer them towards improving your visitor acquisition, behavior, and conversion.
5. Backlinking for SEO
Adding inbound and outbound links helps your page improve its visibility on search engines. Keep in mind, link building should be done with caution. It could lead to Google penalties or even suspension if you violate policies along the process. Some of the best practices when it comes to backlinking include using descriptive words for your anchor text, interlinking pages that are not linked to any of your website pages, and checking for spam/low-quality content on an outbound link.
If you're not sure how to do backlinking, get trained first, or study it well before you start the process. Better yet, seek the help of a link-building service provider.
The right SEO in 2021 practices can help you drive organic traffic to your website and ultimately boost the performance of your business. SEO in 2021 will change from time to time, so it is important to know which ones are still relevant for the current season and which practices should be discarded.
Get More Out of SEO Tips in 2021
Are you interested in revamping your SEO strategy to keep up with the 2021 trends? Do you need expert assistance for the other digital aspects of your company? TuiSpace specializes in SEO and many other digital marketing services for various kinds of businesses. Contact us and let us know how we can help your brand and SEO in 2021 grow.