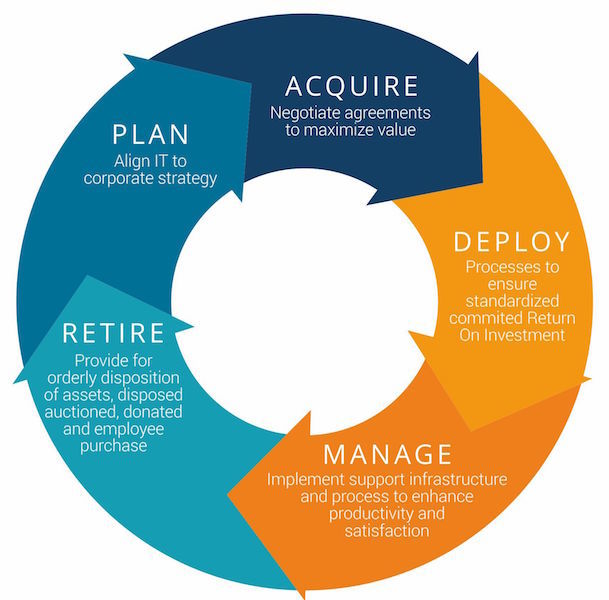 Is outdated technology hurting your small or medium-sized business? It is critical to have a good technology refresh strategy in order to minimize down-time for your business. An outdated IT infrastructure can hurt your business' overall productivity & growth and could lead to disasters.
The Small Business PC Life-cycle
As Gartner points out, PC life-cycle services actually extend from acquisition to disposal, and failure to look at PC life-cycle services will actually increase the total cost of owning desktops. Businesses should make realistic, serious assessments of their computing requirements, and then compare these against in-house capabilities and with their PC suppliers' core competencies. By doing so, businesses can provide the full range of life-cycle services.
Problems With the Failure to Upgrade
While a three-year refresh cycle is fairly common, Gartner found that many smaller companies are typically replacing PCs every four years instead – which is a problem. Even though there are high costs associated with replacing 1/3 of your PCs every year, the cost of not replacing your PCis even greater. As computers age, annual costs go up because more maintenance is required to repair them. Typical support calls can run between $35 and $50, while longer repair calls can run upwards of $200. Repairs are also more expensive due to expiration of warranties. Another key reason to have newer PCs is that self-help is made easier when technology itself is newer (at least that's the goal companies should strive for).
Microsoft's Research on Customer Wariness of Old Technology
Having outdated technology can seriously hurt the business from a customer perspective. Based on a poll of 1405 general customers using SurveyMonkey in September 2013, Microsoft research found that:
A) 61% of customers think a business is outdated if it uses operating systems more than five years old.
B) 25% of customers think businesses lack credibility if it is using free email services.
C) 58% believe that so-called "modern-technology" is the key to business success.
D) 70% of customers said they would be "extremely" or "quite concerned" about providing personal information to businesses with outdated websites.
The Definition of a Modern Small or Medium Business' IT Infrastructure
So what defines a modern small business in terms of technology? Microsoft ranked the list of attributes by percentage of respondents who expected certain criteria, including:
Network security certificates

Email appointment confirmations

Real-time online chat

Modern mobile devices including tablets/smartphones

Latest operating systems

Mobile-friendly websites

Mobile payment processing
These are the core IT functions small businesses should be looking for when developing their infrastructure and upgrading from older equipment.
Advantages of New PCs in Small Businesses
1. New PCs are more secure - PCs older than 3 years are more susceptible to hardware and software failures, spyware and malware.
2. Improved productivity - New PCs are able to run equally fast or faster than employees who use them. Older PCs get slow and sluggish when running multiple applications at the same time.
3. Easier and less expensive to maintain - The cost of maintaining new PCs is generally 1.5 times less than the cost of maintaining an older computer -- costs usually due to failing hardware.
Assessment of Tech Needs and Implementation
For midsize or smaller companies, technology needs tend to vary. You might need just a single office service with basic storage, or you might need a busy server in a data center. Or perhaps you are running your business mainly using cloud technology. No matter what your IT needs are, the business' success relies on how well implemented your technology is. Technology is critical to help manage the organization and keep a quality, competitive edge in the industry. Additionally, in very highly regulated environments, you'll face standard compliance requirements. A big problem for small to midsize companies is a lack of resources to help keep the business running and acquire new growth are
Other Upgrade Considerations
In replacing hardware, there are a couple of major areas to think about when replacing hardware. First, the cost of replacing hardware doesn't just include the ticket price, but also the price of upgrades such as memory, labor, and lost productivity during/after the process. Troubleshooting and user instruction should also be taken into account. Secondly, hardware upgrades will often come with software upgrade needs as well. The company has to ensure that old/legacy software is compatible with new software, and the cost of new software should be accounted for. For major jumps in software versions user education/training should also be accounted for. Thirdly, it is vital that data moving from an old machine to a new one needs to be transferred by someone familiar with backup techniques that are thorough and correct, so that no important data gets lost.
Other Reasons to Upgrade Your Business' IT Infrastructure
Thanks to new delivery models and innovations that can help your business quickly grow and become a major competitor, acquiring new upgrades can help you attain operation excellence, provide innovative service, and achieve new business opportunities. By implementing new hardware and software, you'll minimize operating expenses and help ensure security and compliance. By upgrading, you'll be able to transfer to cloud computing, you can deliver services on demand to your customers, partners, and your workforce. Taking advantage of public, private or hybrid solutions in the cloud to achieve best TCO (total cost of ownership) is a great idea for you business. Finally, upgrading to the latest infrastructure/cloud computing will allow your business to take on new opportunities like big data, BYOD (bring your own device), and social/collaborative computing.
Executing the Strategy
Once your plan is ready to be executed, there are a few steps to implement. First, configure new hardware. Your IT team or a reputable vendor can take care of configuring new servers. Secondly, install the new OS and applications, then test functionality with certain users. You'll want to make sure the testing process is as long or short as you deem necessary. Then, conduct user acceptance testing and backup recovery. Make sure to listen closely to user feedback and make adjustments as necessary. Release to users when you feel ready with your new IT infrastructure. Finally, be sure to plan for the next upgrade cycle -- which will hopefully be 3 years now. Make sure to keep track of updated equipment, licenses, and warranties during the next PC life-cycle so you can plan for the next major upgrade.
TuiSpace will do an assessment as part of our IT support services provided in Houston. We will come up with affordable strategies for any small to medium-sized businesses. We have partnered with many vendors and distributors such as Dell, Cisco, and Hp. Contact us today!