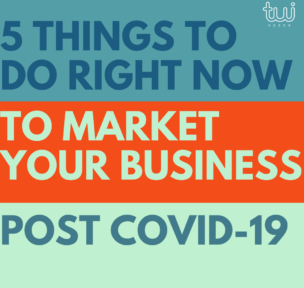 5 Things To Do Right Now To Market Your Business Post COVID
It has been over a year since the COVID-19 pandemic catapulted the world into a series of lockdowns leaving many business establishments, pockets, and bank accounts hurting. Now, recovery rates are rising, positive case counts are generally decreasing, and vaccines are rolling out. These trends are leading to the gradual resuscitation of the economy. However, some things are not the same. Business owners now need to adopt new marketing strategies in order to survive.
Here at TuiSpace, we aim to help you strengthen, grow, and market your business post COVID setbacks. There are a host of things we can suggest, however, we chose                                                                                            the five marketing tips that you should prioritize.
How To Market Your Business After COVID
1. Establish your online presence
If you haven't done so yet, it's time you focus on your website and online presence as a business. Since brick-and-mortar stores now have significantly less foot traffic, now is the time to leverage the power of the internet. People are spending even more time surfing the web and browsing products, services, prices, and specs.
Many shopping malls and famous stores are gaining loads of traction through their online presence. Food, clothes, shoes, hardware supplies, vitamins and supplements, cosmetics, groceries, digital products — you name it. There is now an online shop for almost every kind of product and service.
2. Strengthen trust with your existing customers
The pandemic caused a lot of business owners to either close or scale down operations. However, it's worth noting: Some businesses actually grew despite the pandemic. Most businesses have done this by paying special attention to loyal customers. This is a tactic you can leverage as you market your business post COVID.
Think about what your customers need right now. It could be a refund for an ongoing subscription that they cannot use at the moment or added support in a specific area. Before you balk at the thought of losing money over refunds, remember, this move will only set you back in the short term. The long-term advantage is that your customers will appreciate your consideration and care. They will most likely stay or refer others because of this good impression. 
You could also consider launching a whole new type of product or service that would fit your customers' current lifestyle in relation to pandemic protocols. Some examples are door-to-door delivery services, home-based office gadgets and accessories, homeschooling materials, self-paced educational programs or tutorials, and DIY packages.
3. Learn Facebook Ads and related post-pandemic marketing strategies
Facebook currently boasts the highest number of active users. We highly recommend using Facebook Ads (not just ad boost) to tap into this vast market of potential customers. The main advantage is its ability to target very specific types of audiences. This enables your company to not waste ad spend on people who are less likely to purchase from you. 
4. Revamp your online content
Website content should evolve as customers and industries change over time. Consider adding online content to address the thoughts of your target audience post-pandemic. A lot of business websites and pages are posting banners or visible announcements on how they are adjusting to the pandemic. This shows relevancy to search engines and helps with SEO as well as showing visitors the changes they are implementing to comply with standard health protocols. 
5. Leverage sales and communication tools
There are a plethora of sales and communication tools that you can use to increase connectivity with your clients and leads. These tools also simplify the sales process and potentially deepen your relationship with your customers. They also serve to streamline communications internally for your team, saving time and resources when you need it most. 
Here are some examples of sales and communication tools that you may want to look into upgrading or adding:
Live chat and AI (artificial intelligence) chatbots

CRM

Appointment setting software

Web forms

Social media management

tools

Email marketing software
Bottom Line Post Pandemic Marketing Tips
Learning how to market your business post COVID won't be easy for all, however, it's totally doable. Keeping up with the times involves ditching old strategies that used to work well but are now mediocre at best. 
Do you want to explore post-pandemic marketing tactics for your company? Are you having difficulties with the digital aspects of your brand? TuiSpace specializes in custom websites and digital marketing services for various kinds of businesses. Reach out and let us know how we can help you out.