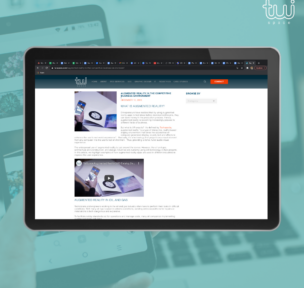 The 4 Best Blogging Platforms for 2021
Blogging has become one of the most widely-used methods of conveying one's ideas online. In the past, blogs focused on personal insights and journaling. Nowadays, people and businesses use blogs for monetization and educational purposes, or simply to speak their voice. In order to launch a blog, you need a blogging platform to organize your text, images, and the format of your content. We are here to help you discover the top blogging platforms for 2021 and which will suit you best.
                                                                                     Our Top 4 Blog Platforms
We took a look at several popular blogging platforms and came up with the top four. Several factors affected our reasoning, including:
Ease of use

Templates 

Themes

Features

Pricing
1. WordPress.org
Pros and Cons
Many consider WordPress as the best blogging platform overall because of its availability of a free tier, a wide selection of themes, and robust features. Whether you want to build a travel, finance, beauty, business, or food blog, it gives you the flexibility that you need for that niche topic. There are also tools and plugins that allow you to extensively customize and scale your blog. However, you need to pay for a domain name and web hosting in order to set up your site. You also have to prepare yourself for the steep learning curve that you may encounter when learning how to use it. Consider looking into hiring a WordPress developer to handle this part of the process!
Pricing
Free: $0
Personal: $4/month, billed annually (or $7 monthly)
Premium: $8/month, billed annually (or $14 monthly)
Business: $25/month, billed annually (or $33 monthly)
eCommerce: $45/month, billed annually (or $59 monthly)
WordPress has a free plan and four paid subscription options. These range from $4/month to $45/month, paid annually. It also offers monthly payment options. All the plans come with jetpack essential features, a pre-installed SSL certificate, storage space, and dozens of free themes. As you move up the tiers, you receive more features. Some of these include a free domain for one year, advanced support, custom domain, marketing and monetization tools, business-class features, and eCommerce tools.
2. Wix
Pros and Cons
If you are a beginner in the field of blogging, Wix is the perfect platform for you. It offers step-by-step instructions in making a blog and a drag-and-drop editor that you can easily navigate without coding experience. In addition to that, it comes with SEO features, automatic email subscription options, a social media bar, and live chat. On the flip side, Wix has no free plan, and its themes and tools do not provide you with a lot of flexibility.
Pricing
WEBSITE PLANS
Connect Domain: $4.50/month
Combo: $8.50/month
Unlimited: $12.50/month
VIP: $24.50/month
BUSINESS & E-COMMERCE PLANS
Business Basic: $17/month
Business Unlimited: $25/month
Business VIP: $35/month
Wix's pricing for its website plans ranges from $4.50/month to $24.50/month, billed annually. The basic features include a custom domain, free SSL certificate, limited bandwidth and storage space, and 24/7 customer care. Higher-level tiers have added features, such as unlimited bandwidth, video hours, professional logo, and many more.
3. Medium
Pros and Cons
Medium is the platform of choice for bloggers who want to build an audience for classic blog content. It has over 60 million users who spend a lot of time reading blogs that pique their interest. Medium is easy to use and personalize. It is also packed with features for building a publication, sending newsletters, and monitoring your stories' statistics. One of its drawbacks is the absence of options for a customized URL. You also have limited control over your audience traffic and ads.
Pricing
Free: $0
Membership: $5/month (or $50/year)
Medium is free to use for anyone who is willing to create an account and start a blog. You can also upgrade to a membership for $5/month to get unlimited access to stories without ads. Being a member also gives you the ability to support your favorite writers on this platform. 
4. Blogger
Pros and Cons
Blogger is another one of the best blog platforms for beginners who want to start earning revenue via Google Adsense. Since this is a Google offering, it easily integrates with Google Analytics and other Google products. It offers advanced features but is still simple and intuitive. You have a free blogspot.com domain and free Google storage, plus you can also customize it with just a few clicks. On the downside, it is difficult to transition to other platforms once you outgrow Blogger. 
Pricing
Blogger is free to use for anyone with a Google account. Users have access to a set of customizable blog templates. If you prefer a custom domain, you can purchase one via Google Domains.
What platform to start a blog?
When looking through the best blogging platforms for 2021, the options truly do suit different needs. 
Our top choice of blog platform is WordPress! But what if you do not have the time, energy, or capacity to set this up for your business? Here at TuiSpace, we specialize in Responsive Web Design with WordPress. 
When you partner with us, we can:
You can choose one or all of these services made available to you. Connect with us by filling out the form below, and we can discuss in detail how we can help you create your dream blog platform!