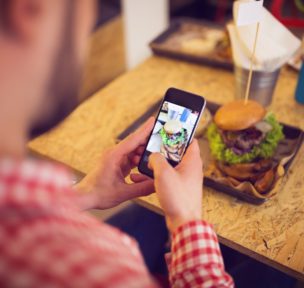 Why Your Restaurant Marketing Strategy Should Go Digital
Many areas in the hospitality industry, such as restaurants and breweries, have been utilizing digital marketing for years. 2021 lines up to see the most significant leap online to date. Did you know that 86% of customers check menus online and 77% visit a restaurant's website before choosing to eat there? With COVID-19 creating less in-person experiences, a strong web presence is now a necessity for marketing your establishment. Once restaurant restrictions and limited capacity of breweries begin to lighten up, the expectation for online accessibility will not go away. We are here to prepare you for that!
Here at TuiSpace, we have a proven track record for helping restaurants succeed. As 2021 sends businesses off into the digital world, we want to share a few helpful tips. 
To get you started, here are four key areas we suggest you address first. With these tips, you can begin improving your restaurant marketing strategy, no matter what area of the food and drink industry your business fits.
How To Improve Your Restaurant Digital Marketing Strategy
#1  Professional Restaurant Web Design/Development
Your website design should be as enticing, informative, and welcoming as your hostess station or front counter.  As the first thing many customers will see, your website is an essential part of any restaurant marketing strategy. Not only should your site look good, with high-quality menu graphics, but it also needs to work. Your site should be user-friendly and responsive for searchers on both desktop and mobile devices.  
For a more effective website consider:
Online menus

Virtual booking requests

COVID updates

CTA buttons
Professional restaurant web design makes it easy for customers to find your hours and location, make a reservation, or even place an order. Take our work with Walking Stick Brewing Co as an example. Here at TuiSpace, we created a more efficient and effective site for this brewery. With an online calendar system for booking combined with strategically placed buttons, their website reservation rates skyrocketed!
#2 GEO Targeted Ads
Finding food establishments that are safe, convenient, and tasty comes with some research nowadays. With evolving rules and regulations in the food industry, more and more people are searching the internet to discover the top places to go. As of 2021, the phrase "Restaurants near me" receives over 6 million searches per month. 
Utilizing local SEO and GEO targeted ads allow your establishment to stand out and find the eaters who are searching in your area. A strong restaurant marketing strategy uses local SEO keywords, metadata, and Google tools to rank high in online searches. Your plan should also use GEO targeted ads to concentrate on local customers most likely to visit your business. Companies with expertise in local SEO can help guide you towards these strategic choices.
#3 Social Media for Restaurants
Though it may seem new, social media for restaurants isn't that far removed from the aspects this industry has long thrived on. Sites like Facebook and Instagram provide a unique free opportunity for businesses to gain customer recommendations and exposure to new diners.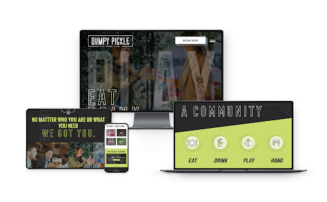 The key to these social media websites is that they are highly visual. Your restaurant marketing strategy should use this to your advantage. Our team at TuiSpace specializes in creating a cohesive visual through branding compatible with any platform. We worked closely with Bumpy Pickle in Houston Texas to help create a brand that fully represented their business. This brand identity can not only be utilized on their website but also on their social media. Through a consistent online presence, your restaurant or brewery can interact with and build a network of hungry customers online.
#4 Restaurant Online Reviews
For better or worse, restaurant online reviews continue to be a significant factor in deciding where people eat. 35% of eaters take online reviews into consideration, and just a one-star jump in ratings can increase your revenue by 5-9%. There are reviews for your restaurant that could be making or breaking your business, even if you aren't active on Yelp or Google.
An effective restaurant marketing strategy utilizes these sites. Encourage positive reviews, fill out your profile with photos and information, and manage feedback. 53% of users expect a response when they leave a complaint, and acknowledging them publicly can go a long way in helping future business. The world of restaurant online reviews might seem out of your control, but with time and attention, it can be used to your advantage. These intentional and personal recommendations prove important in creating trust at the forefront of our hospitality industry.
Digital Marketing Strategy for Restaurants
Even with 1 million restaurants at our country's fingertips, a smart restaurant marketing strategy can help you stand out and grow. These four tips can go a long way in helping you succeed, but the online landscape is always evolving. The key is to stay up to date, assess what is most effective, and be consistent in your online presence.
If you are looking for a more comprehensive restaurant digital marketing strategy, TuiSpace's team of experts is here for you. From web design to Local SEO, social media, and beyond, we have the strategy and support your restaurant or brewery needs. Contact us to learn more about what our custom restaurant digital marketing strategies can do for your business.